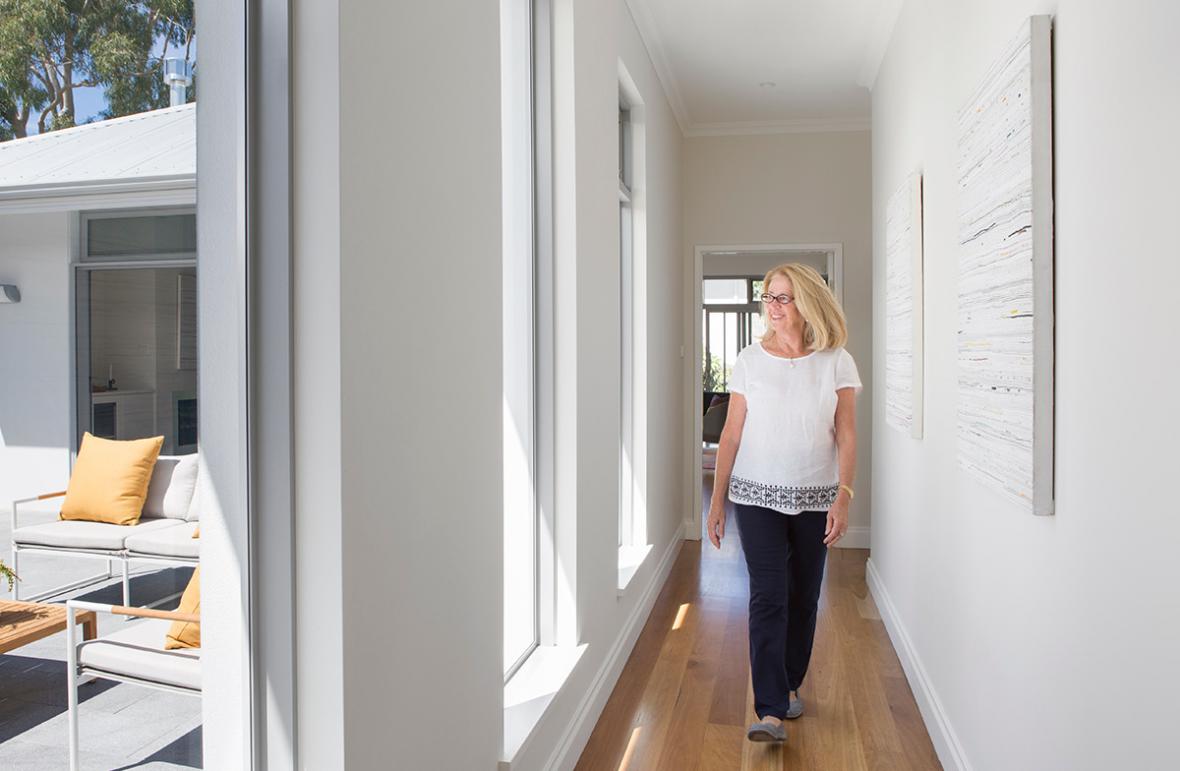 Determined to create a lightfilled and spacious character home that was as practical as it was beautiful, Nola's Cottesloe build is a serene sanctuary by the beach.
Showing what can be achieved through a strong relationship with your homebuilder, Nola talked to The West Australian's New Homes team about her experience with Cottesloe architect and builder Humphrey Homes.
Which inclusions were most important to you?
I wanted a character home that was in keeping with the traditional streetscape in Cottesloe and reflected my personality as that style of architecture is what I truly love.  The interiors are modern, flooded with light, airy and spacious. Based on passive solar principles, the home is cool in summer and warm in winter.  My home was built on a sloping block and I wanted predominantly a single-level dwelling with a minimum number of steps both outside and inside so it would remain functional as I aged.
Does the abode reflect some of your personality?
It reflects all of my personality. I love character homes and am not a huge fan of modern 'boxy' architecture. I prefer the traditional nuances that can be found in cottage-style living.  Quite often when I am gardening at the front of my home I have people stop on the street and tell me my home is beautiful and the traditional design really speaks to them too.
What is your favourite part of the home and why?
I spend most of my time in the open-plan living, kitchen and dining area, which is the part of the home awash with light and has a beautiful vista onto the courtyard and garden. I feel like I am outside even when I am inside because I am surrounded by greenery and light. It is a peaceful environment to live in.
What did you enjoy most about the building process?
I enjoyed it all, but the design phase was particularly enjoyable. Working with an inhouse architect who listened to my plans and then contributed ideas was really exciting. I had an idea one day and it was presented as a solution the next.  Working with a broader team that had the same ethos was also very enjoyable.  You develop a close working relationship with the builder and its team when going through the process of designing and building a home.
What would be your advice for a budding homebuilder?
From my perspective, the most important decision was to choose a builder who had an excellent track record for designing and building quality homes, and who could customise a design that met my brief.  It is crucial to have a clear idea of the key elements you want included in the design. It is also really important to ensure the design meets your brief and the functionality works for you before you sign off, so variations are kept to a minimum.  As I had never built a home before, I found it helpful to run through the drawings with friends who had significant building experience.
Want to know more?  You can see what others are saying on our testimonials page, see this home's full gallery or join the conversation on Facebook, Instagram or say hello today.
Humphrey Homes is an architecture and building company based in Cottesloe.  As a Perth local architect and builder, Humphrey Homes primarily designs and builds homes in Cottesloe, Dalkeith, Peppermint Grove, Nedlands, Subiaco and Floreat. 
This story first appeared in The West Australian New Homes liftout on December 1, 2018.