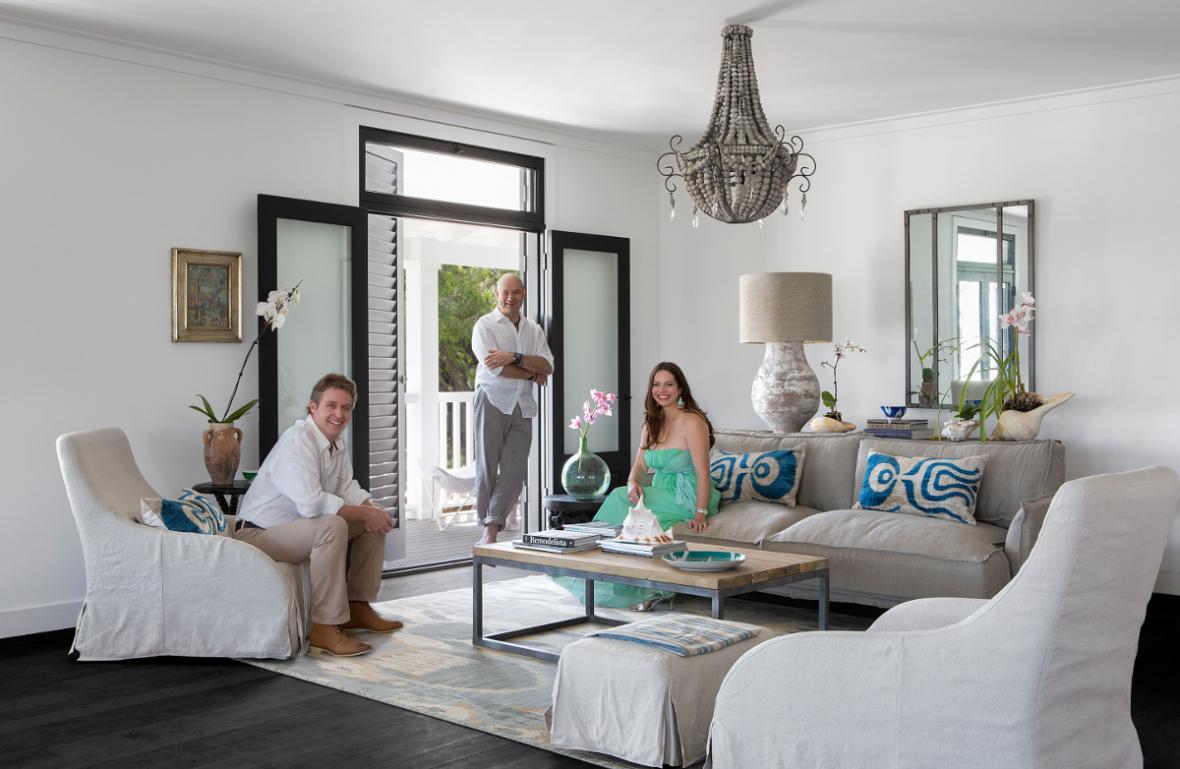 "Friends are surprised when we use 'positive' and 'building' in the same sentence. The truth is however, building with Dean Humphrey was a very positive experience. There were no surprises or cost blowouts. Nothing was lost in translation.

Humphrey Homes understood the initial feel and vision from the outset and managed it really well right through to the end. We definitely got what we wanted."
These are the words from our clients Cam and Tania, who are enjoying their plantation architecture home in Cottesloe.
While is it humbling to hear this feedback, we also measure our clients' happiness in a unique way:  it is the simple act of sharing a glass of champagne at handover.   We truly believe that our clients wouldn't toast the project if they were not 100% satisfied. So far, we have had 100% success rate.  In 20 years, that is a lot of bubbles and a lot of happy clients!
So, what makes a happy client?  We sat down with Cam and Tania for a quick Q&A in their Cottesloe plantation home to find out.
What do you love most about your home?
"We feel like we are living a holiday everyday.   You always get a beautiful serene vibe on holidays and we thought: why travel to get it?  Why not have it in our own home, and that's why we reached out to the team at Humphrey Homes, and the fact that they are a Cottesloe architect so close to where we live was a huge bonus."
Describe the building experience?
"It was really seamless.   Dean made the process fun.  There were no surprises or cost blowouts.  Humphrey Homes understood the initial feel and vision and managed it really well from the outset to the end."
Were you consulted?
"Yes, every step of the way we had options and we were part of that value decision making process which was important to us as we had never built like this before."
Was your vision achieved?
"Absolutely.  We had a very set brief and nothing was lost in translation.  We definitely got what we set out to achieve."
Any surprises?
"It was very quick and went off without a hitch.  We had our home 12 months after we signed off on the drawings which was fantastic as it is big 2 storey, 5 bedroom home with a lot of detail.  And the level of craftsmanship was impeccably high.  Every trade that Dean brought into our home was a reflection of himself and the standards he sets for his team to ensure his clients are happy.  It was incredibly reassuring as we put a lot of trust in to Humphrey Homes and we felt supported from the get go."
Did it make a difference working with an architect?
"Absolutely!  The in-house architect Helen Marchesani really elevated our home to another level.  She got inside our heads and literally drew the creations in front of us.  It was so exciting to see it brought to life so organically. Having that level of understanding provided at our very first meeting really set the tone for what was to come and it was incredibly reassuring as we knew immediately that the Humphrey Homes team just got it."
What was it like working with an in-house architect and builder?
"It was great.  So much of the project happened in parallel which meant huge time savings and economies of scale from both the admin and building side.  There is a perceived concern about putting all your eggs in one basket with a combined builder and architect but we found it to be the best decision we made and we know that contributed to home we have today.  Absolutely 100% right decision for us."
Would you do it again?
"Well, we are never leaving!  But if we did decide to do it again we would definitely partner with Humphrey Homes."
Cam and Tania also talk on video about their experience and you can see what others are saying on our testimonials page.
Humphrey Homes is an architecture and building company based in Cottesloe.  As a Perth local architect and builder, Humphrey Homes primarily designs and builds homes in Cottesloe, Mosman Park, Dalkeith, Peppermint Grove, Nedlands, Subiaco and Floreat.  Discover more on Cam and Tania's home, join the conversation on Facebook, Instagram or say hello today.