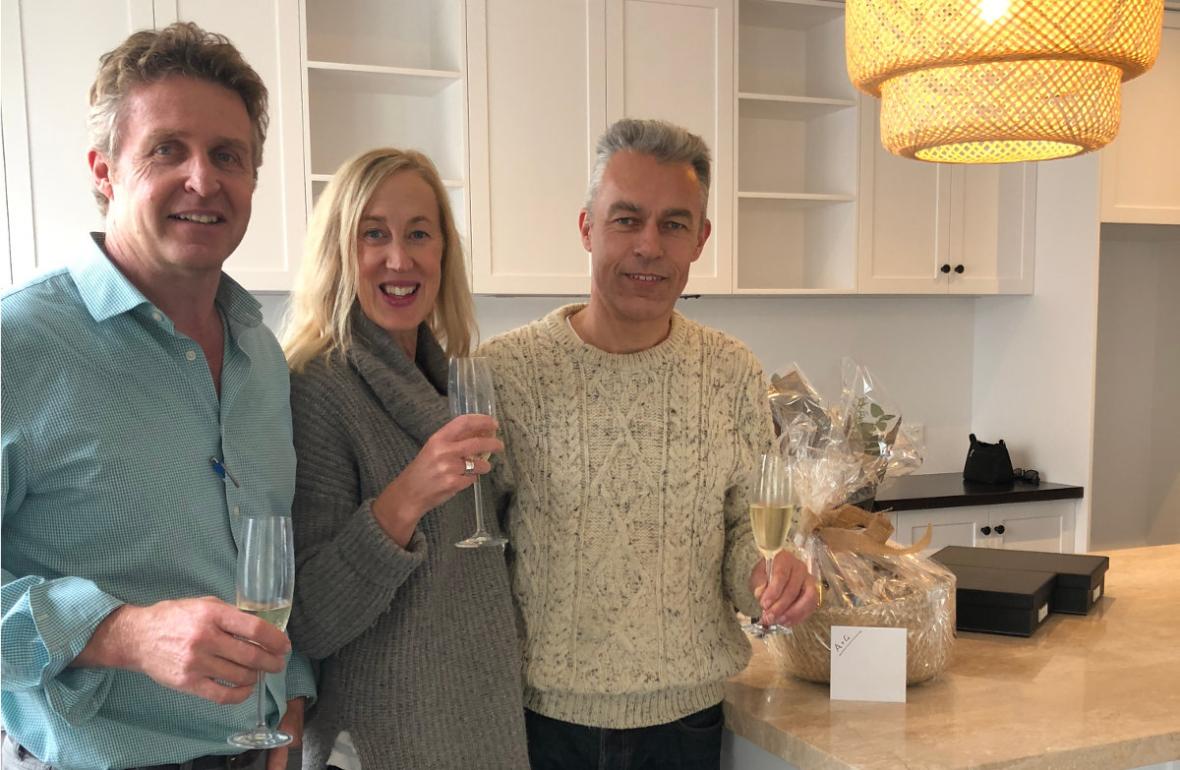 One of the measures of our success is sharing a glass of champagne with our clients at handover.  So far, we have had 100% success rate.  That's a lot of bubbles, and a lot of happy clients!
Here, we chat to Amanda and Gavin about their building experience.
What made you decide to build, rather than buy established?
I had a very clear design vision which was not available to buy established. The idea was to build a simple white weatherboard home which would reflect aspects of the traditional wooden cottages and boathouses in Mosman Park as well as referencing the plantation style architecture of a Caribbean Island we once lived on and hold fond memories of. 
What did you set out to achieve in your new home? 
Timeless design and well-crafted construction that allowed maximum connection with the outside and enhanced our daily quality of life through a feeling of being in a holiday retreat. 
What did you enjoy most about your building experience?
I enjoyed every stage of our building journey but the design phase was one of the most exciting creative experiences of my life. I loved every moment of our meetings with Humphrey Homes in-house architect, Helen Marchesani. We had a dynamic, collaborative relationship and ideas just flowed easily. 
What is your favourite room in your new home and why?
Limiting myself to just one room is really hard but my favourite space in the house is the alfresco which offers views to the pool and the garden beyond. It has a vaulted ceiling that is beautifully crafted and reminds me of living in the Caribbean.  I also love the master suite, especially the bathroom which feels like a sanctuary and the balcony which captures our amazing sunsets. 
Do you have any advice for anyone thinking about building? 
My advice would be to take the time to do your research and find an architect and builder that meets your needs. Ask to speak to past clients or read testimonials. This will probably be the most major financial commitment that you will ever make so choose wisely. Also, building a new home – especially a one-off custom design – is a complex, multi-layered process so it is realistic to expect some technical challenges along the way. A good builder will communicate openly and be proactive at addressing any issues effectively and efficiently. 
Would you build again?
I hope we never have to move from here but if we ever needed to build again I would not hesitate in choosing Humphrey Homes once more.
This story appeared in The West Australian New Homes liftout on August 11, 2018.
Discover more on the home, including the full gallery and Amanda's testimonial, or join the conversation on Facebook, Instagram or say hello today.
Humphrey Homes is an architecture and building company based in Cottesloe.  As a Perth local architect and builder, Humphrey Homes primarily designs and builds homes in Cottesloe, Dalkeith, Peppermint Grove, Nedlands, Subiaco and Floreat.