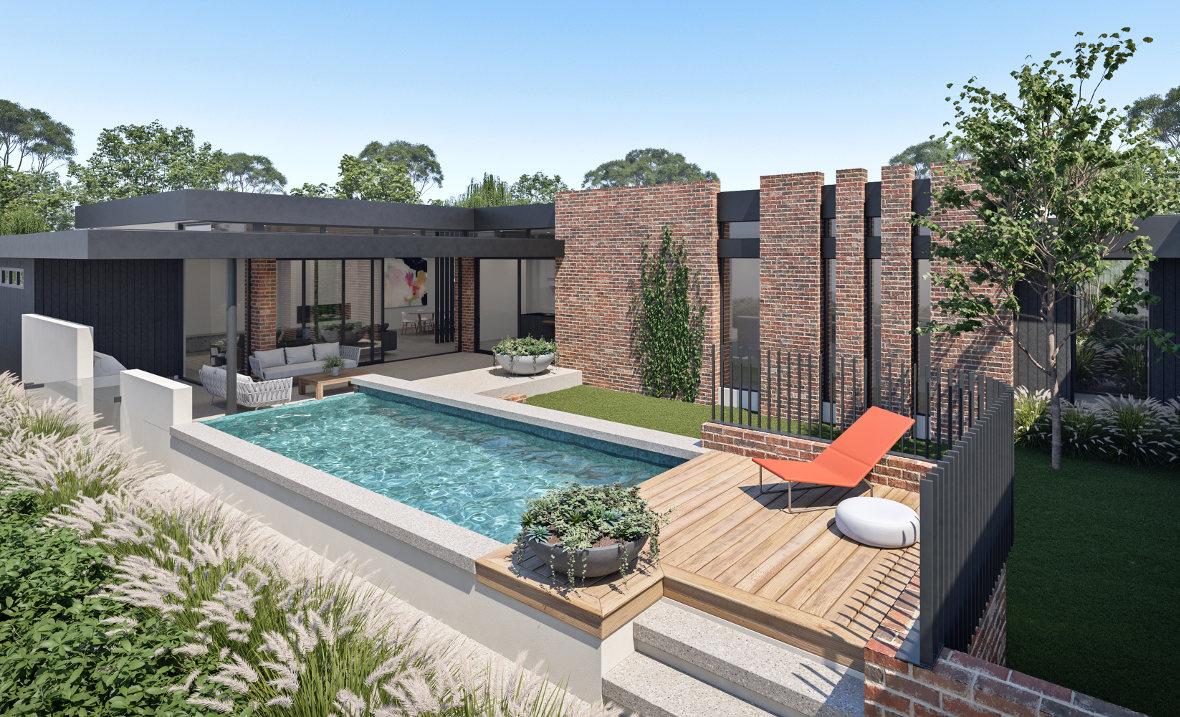 New building approvals are down in WA but you wouldn't know it as you drive around the western suburbs, where plenty of building and renovation work is under way.
Cottesloe builder Dean Humphrey, director of Humphrey Homes Architects + Builders, took the POST on a tour of three of his building projects in Mosman Park and Peppermint Grove.
People heading to Freshwaters cafe in Peppermint Grove can't help but notice what's going on at this Johnston Street residence, which is opposite Manners Hill Park and one door from the river.
A new single-storey house is being built with three-metre high ceilings, steel doors, a giant box window and a zinc roof – as well as bricks from the original 1950s house that was on the site.
Mr Humphrey decided to recycle some of the bricks and use them in feature walls as a way of recognising and respecting the history of the area, and the region that locals call "Norrisville" after the family of Ron Norris.
In a time-consuming process, 6,000 bricks salvaged from the original house were cleaned at a rate of 30 bricks an hour.
"All bricks were cleaned by hand using a pick hammer and bolster," Mr Humphrey said.
"It was a labour of love but it was worth it because the effect is striking.
"We also salvaged some of the original home's ornate cornices that will be replicated in the front section of the home, which has been designed in keeping with the original building."
A timber-framed house without any of the ordinary materials is taking shape on Beagle Street, Mosman Park.
The front, cantilevered section of the house will be sheathed in solid timber cladding using a Japanese technique called Shou Sugi Ban, which roughly translates to burnt cedar wood.
"While it is relatively new to Perth architects, the technique has been used in Japan for centuries," Mr Humphrey said.
"We're also wrapping the whole house in a product called Tyvek that makes the home more airtight and energy efficient.
"Our process makes the home more in line with European standards in terms of efficiency."
One of Peppermint Grove's most historically significant homes, Bleak House, is getting a makeover from Humphrey Homes.
The heritage-listed house on View Street earned its ominous name from the eponymous Dickens novel.
Helen Marchesani, Humphrey Homes' inhouse architect, said the new design for the 1892 house was clean and contemporary so as not to confuse the integrity of the original building.
It was built in a late Georgian style, according to Peppermint Grove shire's heritage register.
"The new works will include metal cladding and steel windows among other stunning materials in contrast with the traditional stone masonry building," Ms Marchesani said.
"The idea was to transition from the original home through a steel walkway into the contrasting modern style of the new addition."
Humphrey Homes is an architecture and building company based in Cottesloe.  As a Perth local architect and builder, Humphrey Homes primarily designs and builds homes in Cottesloe, Dalkeith, Peppermint Grove, Nedlands, Subiaco and Floreat. 
Want to know more?  Check out some of our projects, see what others are saying on our testimonials page or join the conversation on Facebook, Instagram or say hello today.
This story first appeared in The Post Newspaper on February 2, 2019.